After a couple of days without vision a climb was made this evening to wait for mum to finish feeding the 3 blobs and then to depart for a few minutes before an attempt was made to head in to the roost to clean the well-poo'd windows! The camera was permanently on infrared lighting because the window was so dark with 'stuff' but all was cleaned safely and exited without any incident, with camera rebooted again. Having just received a very big feed all three chicks were happy to just sit and watch, and allowed us to obtain further great close-up footage which can be viewed here …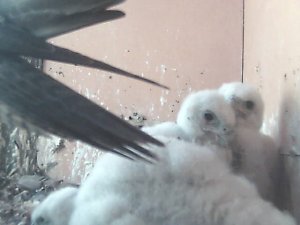 Rough size estimates now show them to be squatting at approx 200mm (8 inches) tall at 16 and 14 days old respectively. Which means there's very little spare room left for either parent to take shelter, and the food supply has to be constant. After 20 minutes of being fed fairly fairly evenly they took a 5 minute break before coming back to finish off what was left for another 10 minutes, after mum had finished her fill. It appeared to be a pigeon this time. There will be relief when the new and much larger roost is finally swapped in to place after this current  family fly off in mid-November.
The first of the new cameras has arrived and will be tested this week before mounting and attaching to the video bank soon. We anticipate far better reliability and improved colour recordings. Talks are continuing with University IT staff to ascertain what coverage options we will be able to provide across the Internet soon.