The breeding season is well on its way with both mum and dad spending plenty of time around the water tower again. According to research this is a short precursor to actual events and may well signify that breeding has taken place, with laying due over the next 2–4 weeks. A brief period of hunting together appears to be taking place right now.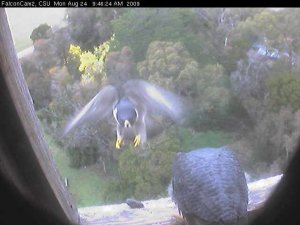 Which is going to pose a problem for the "Roost installation technicians" as we will require a decent time window to cart  the roost panels up the tower, along with 50kg of well-chosen pea gravel, and then assemble everything in situ. Timing will have to be immaculate and well planned to be able to provide minimum disturbance if the pair are nearby, and to ensure aforesaid roost is safe and secure. On our side will be the continual noise and movement from the construction site directly below for the last 18 months and we will attempt to "hide" ourselves in the din.

Construction is halfway completed with most panels built and fitted in a trial run.  The weekend was going to see the initial completion except that the hinges, screws and matting etc were locked away safely in the shed on campus and hence inaccessible! On completion we will dis-assemble in readiness for the hike up the tower. Any on-campus volunteers who can carry backpacks laden with gravel will be most welcome!