All is well with our two chicks, but it would seem that we will have only two chicks this year (as with the last two years).  That makes the job for Diamond and Xavier a bit easier with a higher rate of success of fledging.  Here Diamond is bringing in a prey (possibly a pigeon) to the chicks yesterday:
Prey has been a mixture of pigeons (including ferals and natives), the usual starling and rosellas and the odd oddity such as rufous songlark (we think).  Many prey hard to identify as generally well prepped by Xavier prior to giving to Diamond.
Doing a bird survey in Girinyalanha (the wooded area below the nest) this morning at about 0815 h, we saw wrens, wattlebirds, rosellas and all the usual suspects PLUS we saw Xavier (a little out of focus, apologies) in a tall eucalypt keeping a wary eye on us: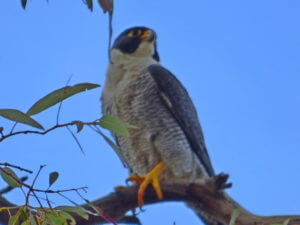 And while I was doing a survey this morning around the main farm dam (no ducklings yet, at least not here), I took this shot of the tower (the nest box entrance is the other side).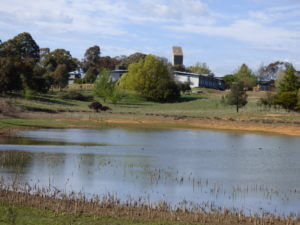 And while we were there, a large kookaburra (the largest kingfisher in the world, not that he bothers to catch fish much), kept us company.   Never seen this as prey!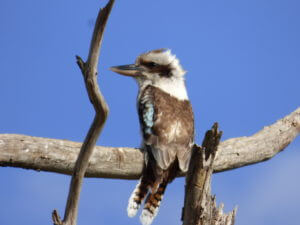 I think next week, we need to consider names for our twosome.   We decided some time ago to use planet names, so I'll put up a new thread next week to that effect.  Bye for now.