I've manged to get into the website, but it's a bit shaky and I keep losing connection, so I'll keep it short.
The breeding season is going according to plan.  The sounds of mating has been heard regularly by keen ears listening to the live youtube and Xavier has been bringing in prey on a regular basis and giving it to Diamond, who has been graciously receiving it (even starling, not her favourite!).
Here are the mating calls:  https://youtu.be/oUHblT9AOfw
I have replaced the rather unstable wooden 'perched' (placed in the box to discourage Diamond from laying eggs in the webcam free corner) with heavier, more stable rocks.  She wasn't at all impressed with this at first, but seems to have accepted them now (after giving them a good kick and bite to make sure they weren't alive!).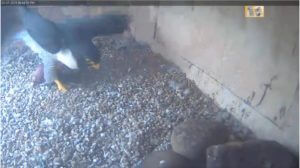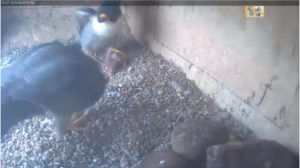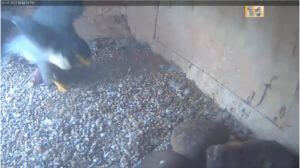 As I'm not confident of this being posted, I'll leave it at this for the moment, but if it goes well, I'll do regular updates (weekly) until the eggs hatched – probably still a couple of weeks to go.
Cilla