I'm going to be away from next Tuesday, May 14 until Friday July 19.  I'm going to a month in Spain (guitar and language workshops, plus some bird watching in the Pyrenees) and week in France with my daughter and grand-daughter (the Lascaux caves, plus Bordeaux), then three weeks in UK visiting family and friends.  So I doubt if I will be posting again until I get back.
Scott has been travelling in southern Australia, but will be back soon and is working hard on getting a new website up and running (and hopefully our recording software as I would like to start recording the breeding behaviour again this year).  If the software still doesn't work, I might try to use the youtube with its four hour rewind, plus Movavi screen recorder.  With these, and help from you guys putting timestamps of coming and going on the chat (or new website if that's possible), I should be able to get reasonable date.   In the meantime, my colleague Rosemary is starting to do some analysis on the prey images – if unidentifiable, she will be sorting them into five size categories.
Meanwhile all is well with our couple, Diamond and Xavier.   Occasional food bringing (which should start ramping up over the next two months), plus courtship bowing and 'dancing'.  Diamond often sleeps in the box at night, mostly with a very full crop, and often on her 'perch'.
If you are not already on to this, you might be interested in the situation in Monarch Place, Springfield, Massachusetts.   A young female, probably the daughter from last year's brood, but this cannot be confirmed, has moved into the adults nest when the first egg was lain.  I haven't been able to confirm who actually laid the eggs, but I assume it was the adult.  After some disconcerting scenes whereby the juvenile pushed the adult off the eggs (but wouldn't budge when the adult female returned), they do seem to have come to some sort of accommodation.  The juvenile has been bringing in food, but didn't know how to feed the youngsters (two egggs have hatched successfully despite the turmoil!) and the adult appears to be actually teaching her 'daughter' to feed the babies.   Very unusual situation.  Here are some videos below:
JUVENILE INCUBATING. Adult female trying to move her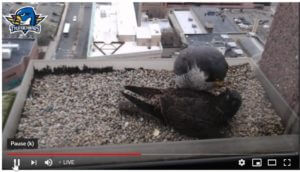 JUVENILE BETTER AT SHIFTING ADULT!
Video:  https://youtu.be/NgTqLRq3XxY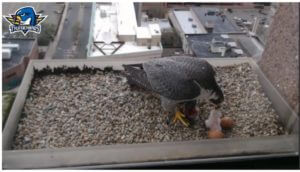 NEXT STAGE:  Mother takes over
Video:   https://youtu.be/HdYBQBkRnPw
LAST SEEN: Co-operative feeding, two chicks
Video:  https://youtu.be/rlEHKIuz-9U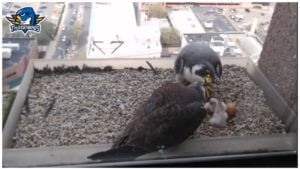 Anyway, we'll have our own dramas to deal with when the new season eventuates – courtship in July/August.  Egg-laying late August (generally), so watch this space.
Here is an email from Megan Fulton in Canada with details of the above site – and other happenings that you might wish to follow up.   Bye for now.  Cilla
MEGAN's EMAIL
My e-mail is going to be temporarily shutdown tomorrow, Sunday. So, that means any you send to me will be delayed a few hours till tomorrow evening, not a big deal. Will check on Monday am. While watching ATP Mens Tennis from Madrid, Spain, starting at 4am Calgary time. Also will be setting up a new micro computer (Windows 8.1, but only cost about $150 Cdn $ ($125 US$, uses HDMI connection Monitor, IO GEAR dock to enable wired keyboard. That should keep me out of trouble.
Will just have to watch the peregrine falcons in the Edmonton & Genesee snows, each of 3 cameras have them sitting on 4 eggs apiece. Stumbled across another site, where the juvenile female from last year refused until hungry to get off her mother's new batch of egg. That's at Springfield Massachusetts (sp?). Live cam, no sound there, no Infra Red for night viewing. Via Youtube, "Monarch Place Live Falcon Cam",
LIVE CAM AT: https://www.youtube.com/watch?v=QWDKR3ltzwQ
Just checked again: mom & other tussling, What a drama! At least 1 has hatched, view at about 1:15pm EST, 90 min ago at 12:45pm MT.
Genesee has new PTZ camera for recording/streaming. Strobe light at night is disconcerting, focus needs adjustment. Only 480p quality. Have to view via 34″ TV acting as 2nd (additional) monitor to see properly.
Weber & Misericordia sites down or off-line this year. Construction at the former, no reason given for the latter.
3 new babies at Anacapa Island, hatched over last 3-4 days, remaining egg probably a "Dudley", i.e. failed to hatch, for whatever reason, and since I think (but not know for sure) that it was the first laid egg of the 4, if not hatched by Monday, unlikely to be viable.
Watching the constitutional crisis in US building to a head. Former adviser to Trump, Steve Bannon, now attacking Pope Francis, is currently living in Italy. Yikes!
That element is clearly poisoning Canadian politics, like a mist of Agent Orange drifting across the border. Allusion to Trump (orange make-up and hair dyes is intentional.
On the bright side, a Northern Flicker has been announcing his amorous wishes by jack-hammering on something metallic on my roof. Sounds just like an electric screw driver being used.
Cheers,
Megan