The minute you turn your back, the two chicks seem to have grown, such that both Diamond and Xavier, and especially the latter, have trouble tucking the youngsters under them on a chilly night.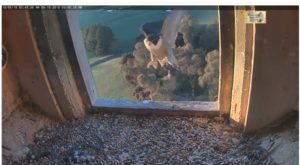 Prey has been plentiful.  Xavier tends to focus on starlings.  Diamond has made it clear that these are NOT her preference, but will use them if there's nothing better.   However, she's been hunting too now the chicks are a bit bigger, leaving Xavier in charge, and has been bringing in pigeons and rosellas (as in videos above) and below).
VIDEO 20181006 1733 h cr tea di caught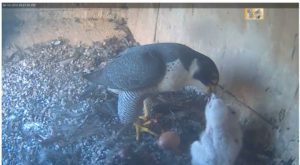 Here Diamond is trying to feed the chicks with rosella after they are already full of starling (they are less fussy).  You can almost here her saying, 'Please, just one beakful more…'.
I was at a nearby reservoir (about 10 km away) today doing a bird survey and saw a peregrine looking for water fowl.  Not sure whether it was one of ours, but it's always possible.  They don't get waterbirds very often.
Remember, voting for names finishes Monday.  Names are two threads back.  Enjoy the rest of your weekend.
Cilla