The first egg arrived at 0207 on Monday morning.   I'm afraid I missed the actual event.  But it was filmed by BirdieCam in the Northern Hemisphere (Holland?) and her youtube channel can be found here:
https://www.youtube.com/channel/UCQvWQiUyDp6oNMlgO6_Jcew
but here is an early glimpse.
Egg number 1 – quite early
And in colour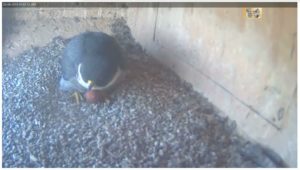 I expect egg number two tonight.  And hopefully at least a third in a day or two.  The female will only sporadically incubate until all her eggs are lain, so they are in 'sync', so don't worry if she seems to leave them.  She won't be far away!
I noticed that Xavier came in with a tiny prey yesterday (thanks to an observant peregrine watcher!) and I'm 99 % sure it was a superb fairy wren – barely a beakful and a first in my books!
And I've just received a lovely photo from Bec Williams of Mum and egg