I'm still stuck with screen recorder, but I have had a go at making a small video.     The format is normally mkv, which I know most of you don't like, but when I renamed it, it turned into a mp4 (like magic).  Is that any better?  A couple of screenshots, too.    Here Bali is arriving with his prize, which I haven't identified but is medium sized passerine.  This happened just over an hour and a half ago.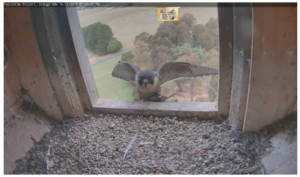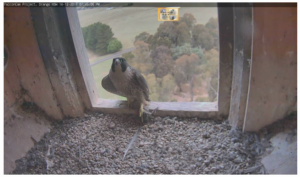 Bali arrived in the box last night at just after 3 am.  Dirty stop out!  It's amazing how they can fly in the middle of the night.   I understand they occasionally hunt at night, although I've never witnessed that with our birds.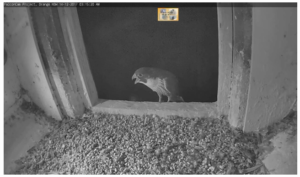 Xavier was in the box much of yesterday afternoon and both adults have brought prey into the box.   Nice shot here of Di leaving.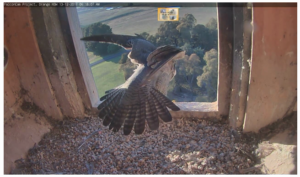 As I came into the university this evening to reset the recorder, Marragaay was chasing Diamond around and around the tower screeching her head off, before Di escaped into the box.  Amazing sight and sound!
Off home soon!