I've just scanned the weekend's tapes – much slower process than with the proper software.   In fact, I think I'll just move my bed into the uni!
Of interest, was the fact that Marragaay spent much of Sunday in the box  after consuming prey.  Unfortunately, I missed her entry, but she when the screen unfroze, she was clutching the starling.   So I don't know whether she brought it in herself or whether it was dropped off for her.  Did anyone see this – it was between 1100-1103 h (am) on 10th December (yesterday)?  Of course, even if she brought in the prey, it doesn't mean it was her kill – she might have taken it from one of her parents in mid-flight as part of her training.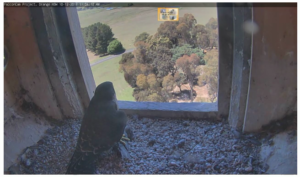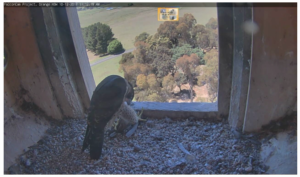 And Diamond brought in what was left of a pigeon, which she ate herself (at least most of it; I missed her take-off).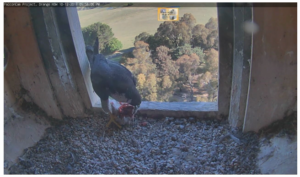 No sign of Xavier since yesterday very early morning.
Bali still using box at night (but not tonight, it seems , as the box is empty as I write at 10.25 pm.   And I saw him in the roost tree this afternoon.
And time to go home!