Very little prey coming in to the box in the last few days, just a grey lump, grabbed by Bali, who left with it.      Here he is, on another occasion, giving Dad a hard time.
VIDEO  20171121 father and son ledge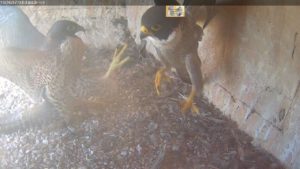 VIDEO 20171121 father and son nest
You are probably wondering where Marragaay is, and so am I.   I'm not that confident it was her in the box, despite the measurements.  I think the camera has moved slightly and all the birds seem bigger than before.    I spent an hour in the woods opposite today and I'm pretty sure the family was elsewhere as all was quiet.
Anyway, I'll keep looking and will let you know as soon as I get a good sighting.   We do know she fledged okay and is off the ground.