Thanks for all your updates, videos and alerts. As usual I'm struggling to keep up with you.    I've been kept busy trying to record all the comings and goings and identify all the weird and wonderful lumps of food coming into the nest, including one with long red legs that I suspect is a water bird.  Others have included the usual starlings and possible rosellas and pigeons.  Very few whole birds, alas, making identification very difficult.  I'm thinking of simply categorising by size, using some type of image enhancer that will help with measurements of the body (assuming I have that, at least!).
I've read various estimates of incubation, worldwide:  26-32 days, 28-33 days;   Australia:  average of 33 days.    If we assume incubation started within a day of each egg being lain, as it did, then the first two took 35-36 days, which is already well beyond normal, but as Ingrid pointed out, it was the same as last year.   Perhaps Australian birds are slower cookers.  If no. 3 hatches tonight, it will be about the same time, assuming this egg was the last one lain (that was a little late, too).   And if the worst comes to worst, two is better than one and certainly better than none.
It does seem as if both Xavier and Diamond are trying to help the chick out, but I'm not sure if I'm reading too much into this.  Xavier was having a good peck!   He could just be hungry….sorry!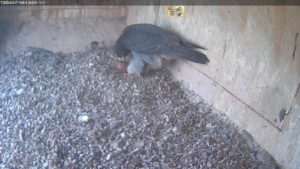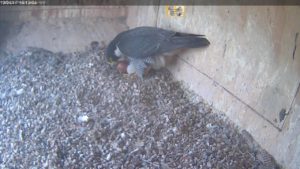 VIDEO 20171004 X helping pip short
And then Diamond has a go.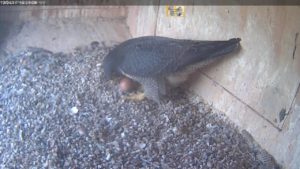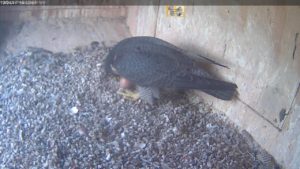 VIDEO 20171004 Di rolls egg short
By chance they have the same position in the box, so it gives you a good idea of the size difference.
I also have  a nice shot of the family.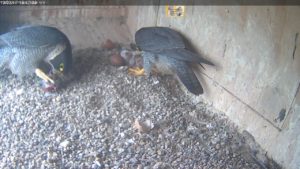 VIDEO  20171003 X meets 2nd chick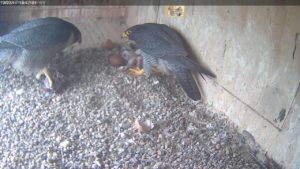 Scott is away for the next week or so.   I am around all of October apart from two weekends in Sydney, including the coming one, that I can't get out of and means I shall get even further behind.  Thank goodness, at least the storage of video is working well at the moment.  In fact, I can go back over a month if I need to.
I'll need to go soon, so will hand over to the night shift. Diamond hasn't let me see the egg with its large crack for an hour or so, but maybe you'll have better luck.