Got back from Brisbane late Tuesday and just catching up with our pair.   I've noticed that Xavier has stopped bringing in much food and is keen to help out with the incubation (something previous males were not that keen to do usually, especially with three eggs).  He even arrived at one time having clearly just made a kill, with blood on his feet.  That seems a bit cheeky, or is he stashing the prey for Diamond (see below)?
And he's hanging about waiting for her to move so he can take over (at least I assume that's what he's up to….)….often he's reluctant to move when she returns from her excursion.    He seems very comfortable and is usually not having problems settling over the three eggs and on one occasion he stayed almost motionless incubating for four hours while Diamond was off gallivanting about, presumably hunting for herself.
On this occasion, however, he did have some problem settling.  Thanks to Doug, who volunteered for me while I was away, for this image.
VIDEO   20170830 X strugges to settle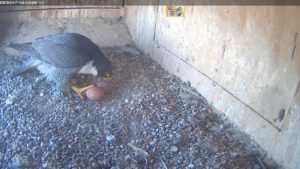 And here Xavier appears to be trying to feed the eggs.  Strange behaviour, indeed.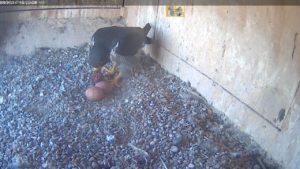 On one occasion, Diamond left with a prey (starling) that Xavier did bring – she then returned in four minutes minus prey.  That's odd.  She can't have plucked and eaten it in that time, so I can only assume it was either stashed in a tree or she dropped it and couldn't find it.  It was early in the morning so she must have been hungry.    I'm going to try and find some time next week to have a look around the park as I think there must be a stash in the trees.  It will be a bit like the proverbial needle unless I get lucky.    Usually they use the box, but Xavier has seemed reluctant to do this.
The night light has arrived, but needs some mechanical adjustment as the stalk is too short.  Scott is working on this and we should have light at night again early next week.