I've noticed that the chicks are starting to interact with each other (apart from merely lying on each other!).  These chicks are also getting nice and feisty.  Who would have thought a starling would provoke such behaviour.
These are in MKV (not avi) format, so fingers crossed.
20161101-20161101-morning-star-food-fight-nest
20161101-morning-star-squabble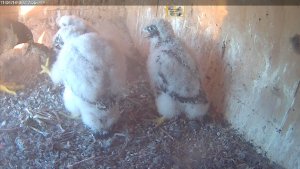 These opened fine on my computer (you will need VLC media), but no audio.  It's all a mystery to me.
Can't stay late tonight as I'm hosting our landcare group.    Will catch up tomorrow.