We have a lot of starlings here, many breeding in the buildings on campus and making a nuisance of themselves.  But the timing is perfect.   As the chicks are getting larger, the quantity of juvenile starlings is increasing and that is reflected in today's intake, which (I think) was: 1 pigeon, 5 starlings.    I would like to be able to differentiate between the native (crested) pigeon and the introduced feral pigeon, but the legs are very similar (bright pink), and being plucked, they are pretty hard to pick.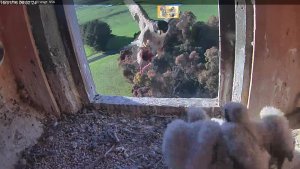 pink legs denotes nice fat pigeon for breakfast
It's interesting to see the time it takes to demolish each species and how this time decreases daily, of course, as they grow.  These times are from the last two days:   starlings: about 3-4 minutes, rosellas: 7-11 minutes, pigeons: 11-14 minutes and the egret: 25 minutes.
The juvenile plumage is starting to become very evident now and the wing flapping will help to loosen the down.
20161031-chicks-at-almost-4-weeks
I don't think this video is working; not sure why.  Tried to re upload, but got an error.