These are the names that you chose.  They are shortened versions of the names of the eucalypts in the wood opposite the nest site (Eucalyptus rubida, Eucalyptus viminalis and Eucalyptus melliodora).  And I like the names, but I still can't tell them apart.  One has a 'bloody spot' on his/her chest.  Tiffany thought it might be a parasite as they were pecking at it, but I'm not sure; it could just be the remains of a rather bloody meal!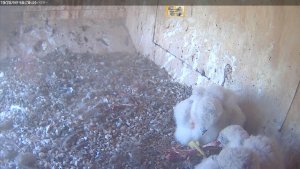 Let's call that one Rubi.  And one appears to always be the first on the scene for tucker…perhaps Vim?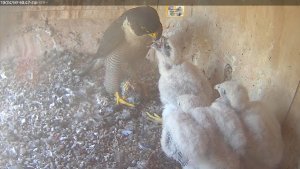 They are growing nicely, and trying their wings out.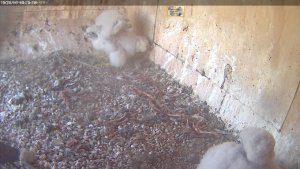 There have been some concerns about the frequency of prey arrivals, but most of the prey are not insubstantial.  In the last couple of days I've recorded several pigeons, parrots (including the larger cockatoos), and waterbirds (possibly a swamphen) as well as starlings (which sometimes don't actually get eaten…Just Xavier teasing).  The feeding times have varied between about 3 minutes (probably a honeyeater, just a snack, really) and over 40 minutes, when some of the chicks often wander off as they are so full.   Anyway, they seem to be putting on weight nicely.
I've noticed the chicks are increasingly much more likely to grab part of the meal and eat it themselves.  This incident with the leg ended well, but I thought it was going to choke him.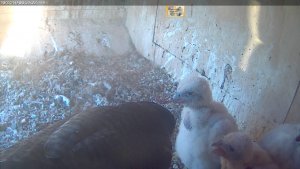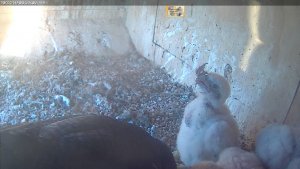 I still haven't seen Xavier feeding the chicks, but he seems slightly less afraid of them now.  He knows they are not his, of course, or is that just my assumption?  Sometimes he sleeps over in the box, and sometimes not; there doesn't seem to be a pattern.  I would be interested to know how common this is.  None of our previous males have ever done this.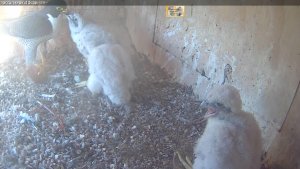 No more weekends away for a while, so I should be able to give you more frequent updates.  We have some fairly major environment issues happening in New South Wales at present: changes to biodiversity and crown lands legislation, so I'm being kept pretty busy, but I'll try and keep on top of things.