Chicks are starting to sprout up and venture out, even approaching their step-dad in a vain quest for food!
Preys have been quite regular; well-sized; difficult to identify, but have included starlings, pigeons and parrots, including a galah, which took nearly half an hour to finish off!  It took me ages to work out one bird, which I finally nailed as an eastern rosella after spying a tiny glimpse of a green, then yellowish feather, which narrows it down.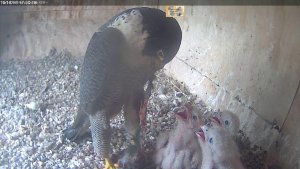 Most parents stash the prey when they have an abundance, but I've noticed that Diamond doesn't usually do this….probably with good reason due to our Xavier's tendency to pinch food.  And it's occurred to me that he perhaps is 'handing' over most of his prey and is consequently quite hungry.  It's quite a job to fledge three chicks, especially under these difficult circumstances, so I think they are doing pretty well.  And I've also noticed that Xavier is getting better at his duties: although he hasn't had much interaction with the chicks yet, his guarding duties have been much more extended.
Diamond is starting to interact more with the chicks, apart from just keeping them warm and feeding them.   She's also spending most of the night either standing close to the chicks on even on the ledge, and much less time actually covering them.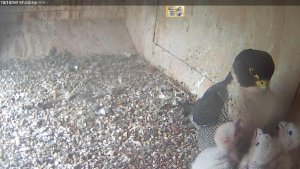 I have to go to Sydney tomorrow, with no access to the software, so I'll sign off for a couple of days.  Scott should be back today from NZ, so I'll leave you in his tender care.   Happy watching.