Diamond appears to be rationing her one kill from yesterday and she fed the little ones (both, as far as I could tell)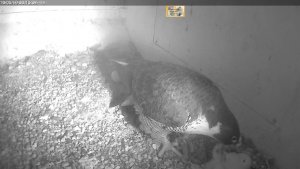 before dawn this morning.  She then ate the remains and is now left with nothing.
As I write the chicks and the third egg (apparently trying to hatch) are on their own.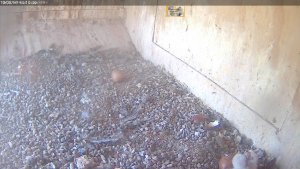 STOP PRESS.  Diamond has jut brought in some more prey (I think another pigeon, which is good as quite a big feed).  She had a quick feed herself and then started warming up the chicks, that are probably too cold to eat.  She is certainly trying really hard.    Hopefully the little ones will get something to eat soon as they must be very hungry (as is Diamond, no doubt).  No hope for the nestlings if Mum gets too weak to hunt, so she must eat first.