As most of our regular viewers have noticed by now, there are two new bobbleheads in the eyrie – one approximately 2am this morning and the second within daylight hours, around 7am. It's tough to tell this year as Diamond has moved her scrape towards the camera, right towards our one blind spot! Not considerate but innocent enough! All's looking well except for a totally absent Bula, who hasn't been spotted for two days. With one sighting of Diamond with food, we can but hope that he's providing support from out in the feeding trees below, out of sight of the cameras (maybe he did something naughty and isn't allowed back home?!). We can but hope and cross fingers that food will be forthcoming. It's a blustery day outside with moderately cool temps (about 11-14degC depending on where you are around Orange).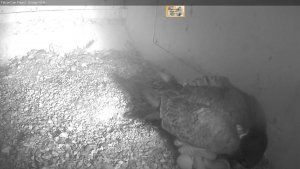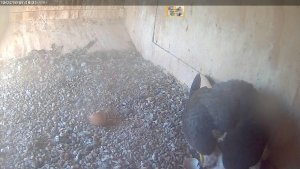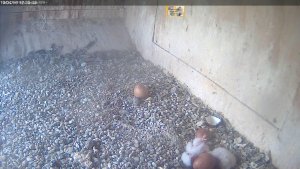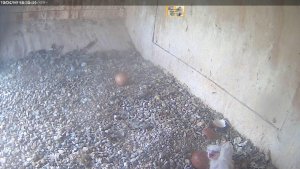 The first video clips:
Diamond and her new hatchlings, early morning
The first two chicks see the first light of day
(NEW) Diamond showing off her two new chicks
(NEW) Clumsy Diamond nearly crushes a chick
(NEW) The two peregrine eyases already hungry and looking for mum
Here's hoping for hatching no.3 shortly too, but Diamond has a task on her hands now.