We have had a surprisingly wet January; not good for hunting.  This is a picture of Diamond, looking thoroughly soaked!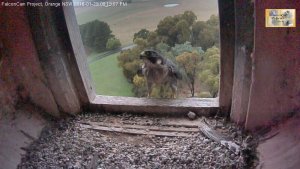 Fortunately the weather has brightened considerable over the last few days and this a picture of Diamond looking much better (at sunset):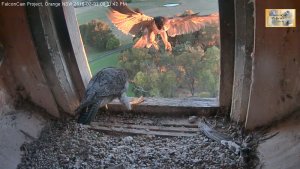 She has been spending most nights in the box.   Last night she left the box repeatedly at about 830 – 9 pm, when it was quite dark.  Didn't catch anything, so not sure what was happening there.
There has some food bringing (unidentifiable scraps) and a few juvenile fly pasts and I was able to catch one of the juveniles (probably female) in one of the tall eucalypts having a meal, while one of the others (not sure of gender) harassing Bula on the top of the tower (sorry no photos).  Evidence that at least two of the youngsters are still around.  This is the most recent sighting (yesterday):