Well, after going through three weeks of tapes, I don't have a huge amount to report, but a few notes and one juvenile sighting.
Diamond has been spending most nights in the box.  Quite a bit of time in the day too (male as well).  We had a nasty storm on 14th January and Diamond appeared to move back into the box to avoid the deluge – I've never noticed that before and have often wondered why they don't use the box more to shelter from storms.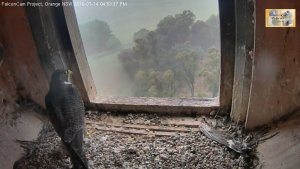 Usually she leaves the box around dawn and Bula arrives for a bit.  There has been some courtship behaviour, too and some desultory scratching at the scrape (mostly Bula).
I had one glimpse of a juvenile.  Bula could clearly see her (?) coming and took off, with juvenile in tow.  This was on 16th January and I haven't seen them since (but have only just came back).   It's raining at the moment, but when it clears, I'll go and have a skulk around to see if I can find them.   No food has been brought into the box for some weeks now.