It's fascinating watching the changes, in just a week.   Bula and Diamond are hardly there at present, being run ragged fetching enough food for this brood, which they seem to be achieving very well (good luck tomorrow with 20-40 mm rain forecast).  Diamond is, of course, there at night.
The juvenile starlings are starting to appear on the menu, which is a good thing all round, but I've noticed quite a few parrots, too, plus a red wattlebird (as well as the usual unrecognisable lumps).
I know that there has been some concern that the big fat chick is getting all the food.  I'm not too concerned about that.  For a start, it's a sensible strategy to ensure at least one chick fledges.  However, where there is sufficient, all seem to be getting a feed.  Here is the largest chick holding  back while the others eat.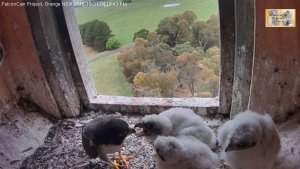 Bula is also starting to leave the prey with the brood (unlike Diamond) and today we had the first independent feed.  After running around with a starling head in his mouth, one bird (Tumbler?) picked up the main body and defended the prey from the others, then let them join in.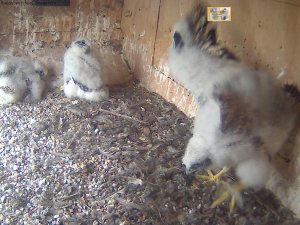 So overall, I'm very happy with their progress.
Now I'll have a look at your comments.  I've had emails saying comments weren't working, so I've let Scott know about that.  But I've also been receiving emails, so some people are being able to do it.