Thanks to Scott for the update.  I've been slogging through the hours of high activity since last night when I signed off and have just caught up.    Diamond was extremely restless for the first part of the night, barely sleeping at all, and spending a long time turning and moving about.  Unusually, she backed to the ledge for her poo, rather than flying out as per normal.
I noticed a hole in the egg at about 0350 h and then, as most of you northern hemispherians had already observed, the chick was hatched at about 0435.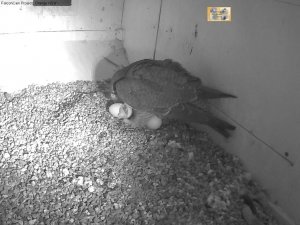 Once the chick was right out, Diamond had some difficulty getting it, as well as the other two eggs, back under her.   She also nearly choked the poor youngster by jamming her wing on its throat.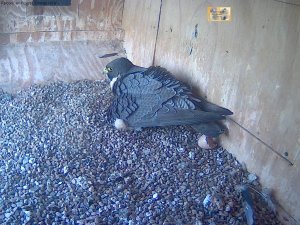 All was well, however, although now I was beginning to get worried about the lack of food.    Bula had brought a scrap to eat, but no-one seemed concerned to feed our chick, perhaps still too little.  Here he is getting to know it.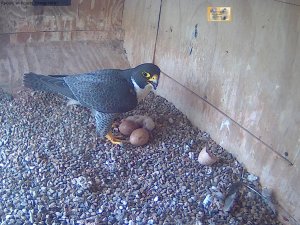 Eventually, this afternoon, Bula brought in a white-browed woodswallow (an intact specimen, so easy to identify).  This was a relief, but also very interesting as I hadn't seen any in the district this year and they are not particularly common at any time.  Highly nomadic, but known to breed in Orange from time to time, depending on the seasons.
During the next feed, Diamond did finally manage to get some food into the chick, but it was all too much, tumbling over with its mouth chockers!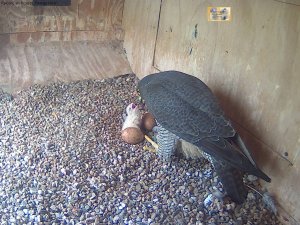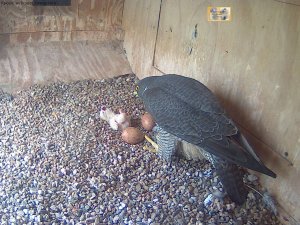 I won't be able to update the blog much in the next few days as I'm tied up supervising work-f0r-dole crews (unemployment 'green' teams, tree-planting, plant propagation etc.) with a meeting tomorrow night as well, but will keep an eye on things from home and try and do another update Friday evening.
Thanks for all your comments and photos and thanks to Scott for attending to the videos.