It's been a relatively quiet week in terms of Peregrine action up at the Concrete Hilton.  There have only been two occasions where Swift and Beau interacted – a quick greet and keening session before Beau abandoned the box for the larger Swift.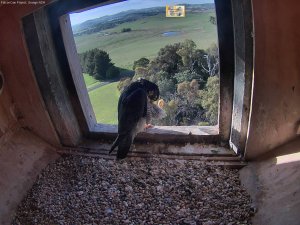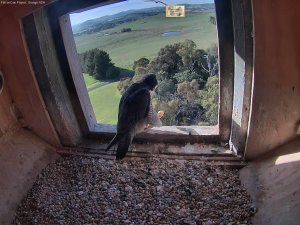 The box was empty for two nights when Swift decided to roost elsewhere – possibly in response to the maintenance work being carried out on the tower.  Last Sunday (the 1st of February) Swift spent 24 hours in the box, moving between the ledge and the gravel scrape.  The reason for this was very clear: a crop-full of something delicious!  Possibly a whole Galah, which would have taken a lot of digestion time (unfortunately, I didn't capture a still image of it, but imagine Swift with an enormous goitre and you've go it!).
Beau has been using the ledge as a preening spot for the past few days.  On one occasion, a shadow passed overhead, causing him to pause and peer up.  It took a bit of peering up on my part to find exactly what cast the shadow, but finally I detected a low-flying Sulphur-crested Cockatoo, just visible in the photo above.