It's been noticed, and not just by me (thanks, Clare), that Swift has now vacated the box at night for a couple of nights.  I don't think this is particularly significant.   We have had the hottest November day on record last weekend, and the box is probably quite uncomfortable.  It is interesting that Beau has still been bringing in food for Swift occasionally (including evening of 23 Nov, see piccie), but I'm wondering if he doesn't quite realise what has happened as I've noticed that he's still searching the box regularly, especially the scrape, where he's been making some tentative preparatory scratchings.   She has been taking the food to the roost tree (and, of course, there's still no sign of Aspro) and appears only interested in the scrape for a good place for a snooze.
Several of us have made recent forays in and around the tower and roost tree and surrounds for up to two hours to continue the search, but the parents are both still ignoring us.   All the outdoor staff have been alerted as well, of course.  There is a very switched on gardener here, as well as a vineyard and farm manager.   Apparently a fox has been seen right in the university courtyards recently.  We also have boobook owls and tawny frogmouths, although this would be an unusual prey for them.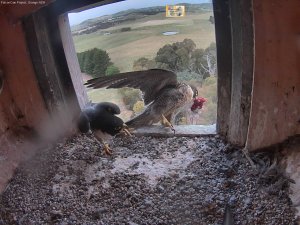 Fortunately a bit of rain last night has freshened everything up today and it is relatively cool.  If last year is anything to go by, we should see some cicada-eating activity soon.