This month in Orange is the beginning of the next breeding season for resident peregrines Beau and Swift. They've been given a freezing month of July as well, with intermittent snowfalls around the region and below zero (celsius) nights. There have been reports of Beau ducking and weaving amongst vehicle traffic down on the road, scaring the odd passer-by with near misses, and plenty of banter in and around the trees and the "Concrete Hilton" tower. With both HD cameras up & running, (albeit the odd tweak for night vision and picture quality) we're looking forward to more activity shortly. Just this week we've seen the peregrines offering food on the wing to each other, making plenty of noise and disturbing the locals. It's all a good sign. Outside of some regular annoying power outages on campus the cameras and servers are running very well. We're all set, so Beau and Swift, now if you two wouldn't mind availing us of more offspring we'll be more than happy!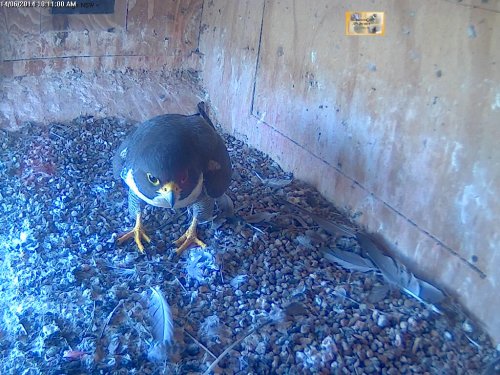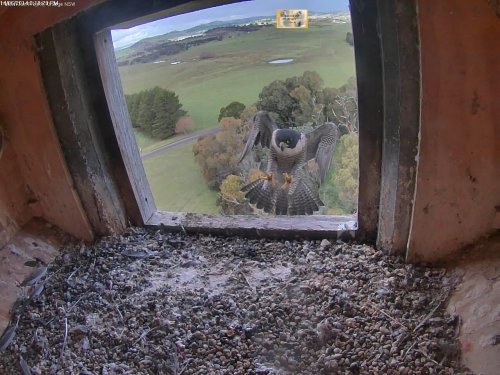 Cilla has been busy lately on various ornithological tours but has seconded two good helpers to sieve through the surveillance server recordings over the last few weeks. All data gathered from the past couple of seasons is being compiled and will contribute to further research and papers soon, so it's hopeful that this season will see some succeessful fledging. Last year was unfortunate in that all 3 laid eggs failed for natural reasons, but at least one new furry bobble-head in the eyrie this season will go a long way to making up for the quiet year in 2013.
A few weekends ago myself and partner (a fellow contributor to the Project) were lucky enough to pass through the town of Healesville, down in Victoria, where we visited the Healesville Sanctuary and after watching their fantastic Spirits Of The Sky native bird show we met James and Jason who conduct the informative show and handle all the raptors and parrots. We took a brief trip out the back and got to meet some of the stars of the show, including the magnificent Jess, a resident wedge-tail eagle with a 2.5 metre wingspan who unnervingly eyed us off before being transferred back in to the enclosure. Also on hand was a fairly new acquisition of an 8-year old peregrine falcon sourced from Western Australia (and formerly of Queensland). Such a beautiful bird close up (of course we're slightly biased!) with a good future, and in very good hands at the Sanctuary. With some luck we may see Jason and/or James visiting the Orange region over the next few months and both are more than welcome to come see FalconCam Project for themselves, as is anyone else visiting thr region; lots in common and we'll most certainly return to the Healesville Sanctuary in the near future. A highly recommended day trip for anyone in the Victoria region…. and thankyou also to Kevin the parrot for commentating the show for us all!!