At fledging, females should be 80% wingsize of adults, and males about 83%.  On that basis, one would assume Snow is a male.  He is considerably smaller than Swift – see attached.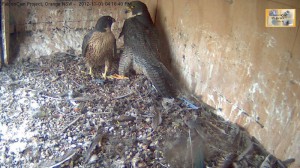 However, it is known that males mature more quickly and often leave the nest earlier than females, so am not 100 % sure.  At mature nestling stage, such as this, there is something called 'reverse dimorphism' whereby the male can be actually larger than the female.
If there is anyone out there who would like to stick their neck out and make a pronouncement, let us know!
Cilla