This year FalconCam Project has seen a few important milestones – the second and bigger roost was installed, our first footage of an actual peregrine falcon chick hatching, a functional Donations capability and University account established, but now a more worrying incident – the first injury.  It appears our 3rd season chick Solo has badly injured herself somehow and we observed her today in the roost trying to eat lunch balancing on one leg. We're hoping it's a temporary injury, such as a sprain etc, but there's every chance she's broken her leg.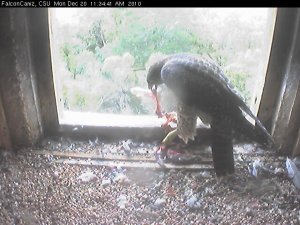 When trying to stand on the ledge she has all her weight on her right foot and the problem was more noticeable when she began to eat lunch supplied by her parents.  In a brief video you can see her twist around and drag her poor left leg, claws curled up and useless.
About 20 minutes later Solo went for a brief flight across campus at very low altitude, using the strong winds to steady herself  in the odd stall. A group of workmen on one of the roofs also noticed her predicament and we could clearly see her left leg dangling like a loose twig before she flew back around the other side of the tower. Later this afternoon a search was undertaken but she's not resting in the trees below the tower.
Capture by a licenced carer would not be easy as Solo is flying competently, still has a good appetite and is fully alert.
It's disturbing to see but we're well aware there's only so much we can do. Rest assured anything we can do to help Solo legally we will.