It's night time now and Solo is still in the eyrie on her 43rd day. After all the efforts and calling from both parents, especially Swift, she just wouldn't leave and it seems her lack of confidence to make that daring first jump is over-riding her desire to get out in to the nearby trees. First thing this morning she looked ready to go but as the day wore on she seemed to lose that enthusiasm.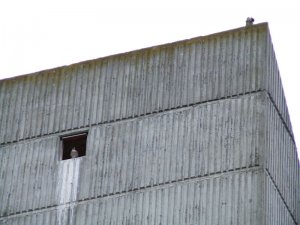 The following video clips show some stern interaction with Swift, Solo appearing to feel quite skittish about her mother staring her down. It didn't work. First video and second video of Solo and Swift.
We await tomorrow morning ….