In monitoring activites up the tower today it was realised that mum appears very close to laying again, this time 2 weeks earlier than even last year's early nesting. At the very last minute we elected to go ahead, climb the tower with tools and helpers (thanks Chris, Mark, Ron and Cilla!) and swap out the old for the new. It was all done in minimal time with a great result before Mum decided to come back and stop us tweaking final bits. Still, the box is up, existing cameras are running through clean windows and early results are in.
Mum was extremely apprehensive about the noise and movement and ended up sitting on the ledge for about 90 minutes before dad rocked up (as he does) and bounced straight into the roost before realising renovations had taken place (see video footage here …). All seems calmer tonight with comings and goings while dad fetches dinner, mum flies down to clean it off before returning to the ledge in the overcast darkness.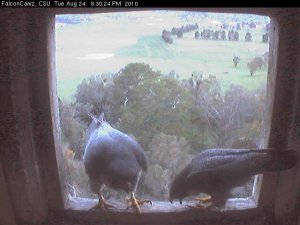 We're looking forward to tomorrow's activities as mum has spent the day sitting down, gravel scratching and looking very pregnant around the tail (hence the decision to go ahead with the new roost, even without new camera equipment).