Welcome to all our viewers in 2010 to our FalconCam project. Plenty of activity to report up in the trees where most of the peregrine family has set up their territory. Unfortunately they've all become camera-shy and normally require a "stake-out"' by us in the trees themselves to catch a sight. Lots of calling and pestering can be heard still, which means they're all healthy.
This current weather pattern must have confused them as the rains finally arrived on Christmas Day and the dry brown landscape turned into a more green and fertile prospect in the last fortnight, with hopefully more wildlife venturing forth.
This afternoon we finally grabbed footage of Rosie, the young new female, up in the roost plying in to a freshly despatched blackbird and she's spent a fair amount of time learning how to make her way through the feathers before taking it on to the ledge itself where it's easier to grip and tear. Initially she was harassed by another hungry sibling but she managed to shoo them away to get on with lunch.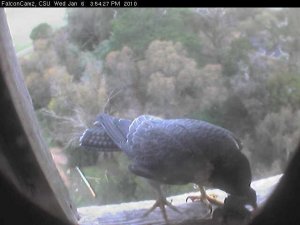 A couple of good video clips were saved but are somewhat gory. Probably the best short clip has now been uploaded to view here …