The last few days have been a matter of routine, with mum spending most of her day minding the blobs for extended periods, and dad coming in for his awkward sittings during breaks. The weather has improved from the weekend and it seems it's making life easier even up in the roost with plenty of "reserved" shut-eye during the day.
Currently the nest itself has been moved a little further into the centre of the box and when the parents stretch or change-over most of the egg's surface can now be seen, which is an improvement on last year. The extra gravel (which isn't being eaten) has given the nest a better base but also better viewing for us.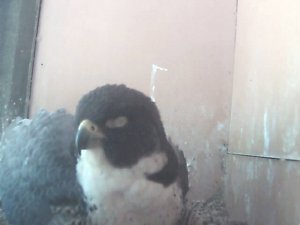 With only a few days to go the anticipation is growing and the bets are on for how many of the three blobs hatch. Approximate first hatching date should be 02 October but the weather forecast is (currently) for rain over that following week, with cold overnight temperatures. Another challenge for our dauntless peregrines.