Overnight right across New South Wales received a massive duststorm coming from the drought-stricken Centre and with this came plenty of rain; at one stage last night 15mm fell on Orange in one hour (impressive for us!). The stormwater drains were overflowing but that didn't worry our intrepid falcon mum who managed to stay put. This morning we awoke to a brown and wet landscape with everything coated in red dust and even the roost camera windows are partially tainted.
Overnight dust and rain storms persist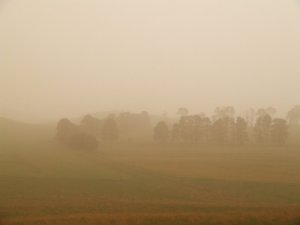 The nest camera is again proving to be a headache and needs constant re-setting but glimpses of mum show she's relatively settled this morning.