With new independence for Migii, and more of a chance for mum and dad to be able to come "home" without constant nagging to be fed, the roost has reverted back to its original role again, basically as a lookout and a ledge to watch the building construction down below. On a murky day it appears both mum and Migii (very difficult to tell with our current camera angles and lighting) have come back for shelter and respite this morning and plenty of preening after the big wet overnight. Mum was spotted first before the boisterous and loud Migii flew in to usurp her for a fleeting reconnoitre, before flying off once more.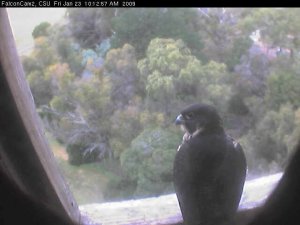 Best attempts were made to capture Migii taking flight but the lag we receive between snapping a shot and the actual image being captured is proving to be a headache with this camera.
As with early days in any new escapade Migii is still hesitating before leaping off into clear air and spends plenty of time ducking and weaving and finding the right spot on the ledge to take the ultimate leap from!