Migii has spent all day today testing the stability of the window ledge and balancing skills. All this morning mum was just around the corner, out of sight, sitting on the microwave dish, no doubt in readiness for the first flight and to support her progeny. Frustration is certainly setting in with Migii who is spending most of the time on the ledge, flapping furiously and eyeing off the trees below, itching to get out there, but not having the courage yet to finally jump.
It's a nervous time for all as we wait for that inevitable moment when the sleek, aerodynamic shape disappears over the edge for the first time. When this happens it will be a major milestone for Migii but also then the problem initially of whether there's enough strength in those growing wings to be able to fly back up to the tower or whether a tree will become the roost until strength grows once more.
Just for now the fun rests in playing "ball" with the old egg and chasing flies right along the ledge and around the nest on Migii's tall landing gear resembling an old Constellation airplane. Very restless & active and jumping from one end of the nest to the other, but it's still a very long way down! The mind is certainly willing but the courage has a way to go.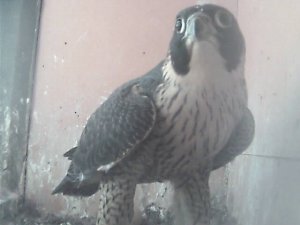 Amusing playful video can be viewed here …