Day 24 and Migii is showing signs of boredom and missing mum and dad's close contact. Both parents now spend more time on the ledge instead of in the nest and Migii has to stretch out across the lower ledge to maintain contact and any bonding. Comforting to see common-sense still prevails when it comes to actually hopping up on the ledge.
More new videos can be viewed here, and here …
We went up again today to clean the camera window as it had received a double hit (was throwing out the infrared lamps) and are now receiving much better pictures. The parents have been out hunting and surveying a lot more in the last 2-3 days so Migii is being left to think about distant lands from the very best view in the whole of Orange.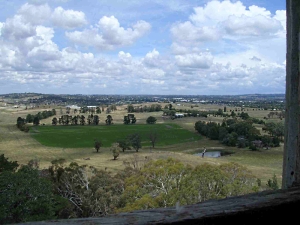 A very Merry Christmas and a Happy New Year to all our interested viewers. Updates will be added as often as possible over the holiday period so please come back and check out the new posts and pictures.