Today we were lucky enough to be visited by two of Australia's ex-servicemen, Messrs Norman Williams and Fred Anderson, who belong to the 30 Squadron RAAF Beaufighter Association from the now-disbanded squadron of same name that saw action during WWII and thereafter in the Pacific campaigns. It turns out that their squadron emblem is indeed a peregrine with a lightning bolt and the coincidence seemed entirely opportune.
Fred, Norman and wife were shown over our project and territory, including a stake-out of the tower window from the grass verge, only to be disappointed by no winged arrivals or departures (which of course happened not 10 minutes after we all left!), but it appears they were all suitably impressed with the live & recorded video and pictures of our high-speed, furry friends up the tower and Migii put on an entirely well behaved display for our visitors.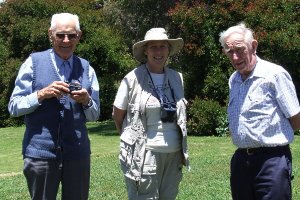 We were honoured to meet such wonderful gentlemen (and wife), with so many stories to tell and so full of interest. We thank all three of you for taking your valuable time to come visit us and we look forward to meeting up again in the near future with even more news from past and present!
We could see Migii beginning wing exercises, with plenty of balance on those enormous feet. Already there are formations of trailing main wing feathers and countless times during the day getting close to the ledge looked like lots of fun. Fortunately sense prevailed and Migii always came back in. More gallery photos soon…