I went back and checked the records for the latest sighting of a juvenile and it turned out to be 13th Februay in 2016.   There were two females that year (Walga and Tumbler) and one male (Tardy).  I'm afraid I don't know which flew past!   We'll see whether Gaama can beat the date!
Interestingly, the adults have been bringing in prey again to the box for the first time in a while.   Here Diamond is checking and double-checking to make sure her stash (probably a pigeon) is safe.  Of course, it wasn't safe at all.  As soon as Xavier found it, he nicked it.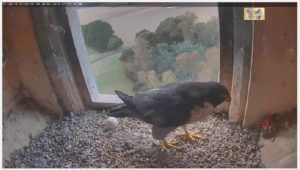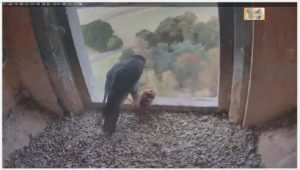 Diamond found it and there was quite a barney, with the prey being dropped, necessitating a retrieval scoop from Diamond!  The action is shown in the following video: https://youtu.be/ObqewQHSdKE
The next day, Xavier brought in a prey and handed it over to Diamond without a fuss.  He is quite a character, Xavier, and will get away with what he can, but he knows who is boss!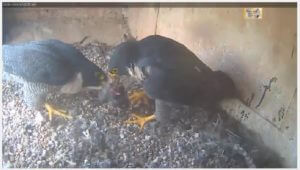 Now that the kids are off their hands (well, almost) rituals to renew the pair-bonding have recommenced with bowing and dancing.  Here Xavier is, unusually, calling during the bowing.  Generally he keeps low until she has had enough when she chases him out.  But in this case, he just left in his inimical way (Goodbye, cruel world).   Here is a nice video of the action, both in the nest and on the ledge:
VIDEO (NESTCAM)  https://youtu.be/asYHs6ogD7E and LEDGECAM:  https://youtu.be/EW-nIDXcUgA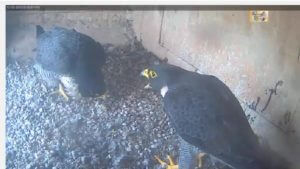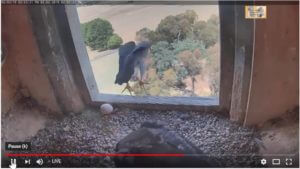 And finally, in this video you can see all three birds, including Gaama, making a dramatic, if brief, appearance:   VIDEO – trio:  https://youtu.be/MpG-aqIspSM