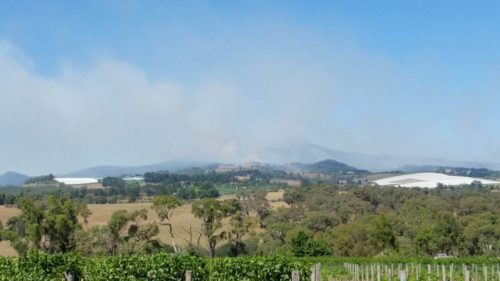 This weekend has been a bad one for Orange and surrounds. A bushfire started (apparently deliberately) up on Mt Canobolas, which is the 1440m high group of old volcanoes above Orange. It took hold and the last 2 days have seen the sky filled with helicopters and a DC10 tanker, along with 100 fighters battling the mountainous flames. The smoke has been massive, as you can imagine, and we worry for the wildlife in the region, especially the ground life on the mountain itself. Fortunately the higher speed animals could make their escape as only the north-west, north, and eastern sides are affected, but the ground wildlife will take a massive hit. There is a known peregrine eyrie just to the west of the current western fireline, down in a deep valley. We're hopeing the best for that eyrie. The fireys have done an amazing job, saving the TV, radio, and air traffic control infrastructure on the summit.
Diamond, Xavier and clan will be OK as the campus is on the opposite side of Orange to Mt Canobolas, but at times the smoke would've posed issues.
The fire continues to border on some of our vineyards, but no houses have gone yet. Will keep everyone up to date as best I can, but if you see smoke around the cameras it's probably from about 8-10kms distant.