Apologies for delay in updates…  I've caught up today.    I think our new pair is settling in, although I do occasionally see both males and females that do not look like Bula or Diamond.  But I might be seeing things as the obvious streak on both our new birds' necks is not always so obvious and Beau's obsessive scraping is starting to be apparent in Bula, although to a much lesser extent.  No sign of Swift sleeping in the box, or even visiting as far as I can see.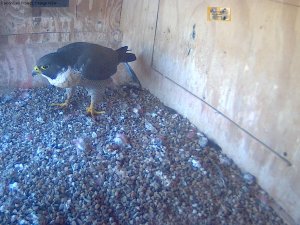 Probably the most interesting change in behaviour is that the male has not brought any prey to the box at all.  On the other hand, Diamond has caught several birds (including two quite large parrots) and has delivered these to the box.  She has then stashed them there and watched as Bula has grabbed the prey and flown away with it.    I can't imagine Swift allowing such cheekiness.   Usually the male has to prove his worthiness by delivering prey to the female (who does most of the incubating etc.), not the other way around.   Rather odd!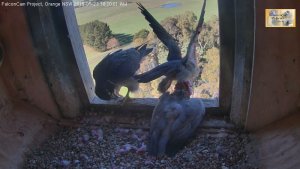 There has been quite a lot of activity around the nest-box, including much courting, although nothing very close between them as yet and definitely no 'beaking'.    I'm hoping that the male will start delivering prey as this could signal more clearly the start of an early breeding season.   I've never seen actual mating in the box, but the former pair were seen cavorting right on top of the water tower a couple of times.