The results of the eggshell tests have arrived back.  The only elevated result was for DDE (Dichlorodiphenyldichloroethylene, a compound formed by the breaking down of the parent DDT) at 1.4 mg/kg.
According to the USGS' Biological And Ecotoxicological Characteristics Of Terrestrial Vertebrate Species Residing In Estuaries report in the section on peregrine falcons, it would appear that 1.4 mg/kg in eggshell is elevated, but probably not sufficiently to cause eggshell thinning.
However I will investigate further with people who have done research in this area to confirm this.  It is known that the eggshell thinning phenomenon lasts many years, if not decades, after the banning of the substance.
In the meantime, the love play continues, however this time with some considerable aggression from Swift.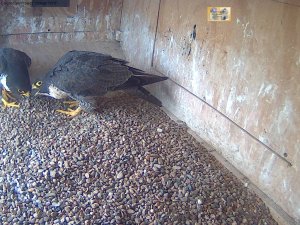 Have a lovely break over Christmas.   I'll be around every couple of days to keep an eye on things inside and outside. I will be doing a general bird survey of the campus around the New Year.
I also have over a thousand native plants in tubes in our horticultural centre and need to ensure they are being watered. These are for planting out on the university farm and for other landcare projects to provide wildlife habitat.