Last night, as keen viewers observed, Swift lost an egg at about 8.44pm local time. We've gone through the footage a few times and there doesn't seem to be any indication prior that anything is wrong. Footage 15-20 minutes beforehand shows no signs of worry or anxiety on Swift's part as she stands up, checks, stretches, and lays down again. But it's when she stood up again that one of the three eggs had a problem, which she quickly attended to, and over the next 1-2 hours began to open it up, clean it away and eventually push the broken egg carcass aside. A few hours later she flapped her wings and the shell floated further towards the entrance where it stayed. Beau arrived early in the morning to take his turn and glanced across but didn't react to the lost egg.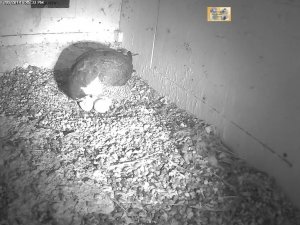 It remains to be seen what has caused this. The environment around Orange is healthy, with minimal use of broad pesticides and herbicides (nothing beyond normal limits that we're told about anyway). Last year's efforts were mixed in that Beau mistakenly crushed one egg against his chest and flew away with it, while another was obviously unviable as Swift cleaned it away. If we can get the chance to grab the shell we'll have it tested; the problem is being on campus and up the tower at a good moment when Swift has taken leave briefly. Quite the task but we'll give it a go.
One more possibility is that maybe somehow Swift knew that this egg was not viable. My first thought was that she has an instinct and knows when an egg won't succeed e.g. some kind of heartbeat etc? Another strong possibility is that age is beginning to catch up with this pair and the shells are not as strong as they used to be. This is the 7th consecutive observed breeding season in the eyrie but as far as we can tell there was at least one previous breeding, and possibly more. So this puts their age in the upper echelons of the average breeding age group of wild peregrines, although not beyond success.
[ video clips – last sighting of all three eggs , Swift loses the egg , Beau and Swift changing over duties  ]