Another day goes past and and it seems no progress. Today though nature took its turn to mess things up. A really powerful and direct electrical storm flew over campus dropping plenty of rain in sheets and scoring a direct hit on the water tower lightning conductor rod. Unfortunately the male was sitting on the microwave dish underneath trying to stay dry, got a huge fright and flew off into the trees. The poor female was stuck on the nest no further than 30 feet away from the strike and must have thought that the world had ended!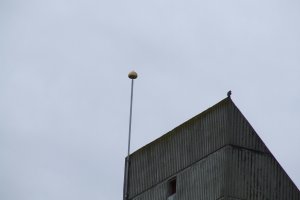 Courageously the male returned about 20 minutes later and stood up on the top of the tower, no doubt very spooked. When we managed to get some of the network running again (fire alarms going off, power down, network down, some phones down!) we noticed the female was still there on her lonely vigil.
Some theories exist that electrical storms have the potential to disrupt and possibly terminate incubation. We are not giving up hope yet but the chances now are very slim for hatching success.